SDSU Imperial Valley Food Pantry


MISSION STATEMENT
The SDSU-Imperial Valley Food Pantry provides nutritious food and snacks for students experiencing food insecurity. Leading to end hunger and further educate students about nutrition through food program referral services and CalFresh information.
CONTACT INFORMATION
Food Pantry Coordinator
Melissa Villarreal
Email: [email protected]
Phone: (760) 768-5595
Student Affairs Front Desk: (760) 768-5502 For appointments: https://sdsu.campus.eab.com/pal/osAKtXQqb1
SDSU-IV FOOD PANTRY OPEN FOR SUMMER!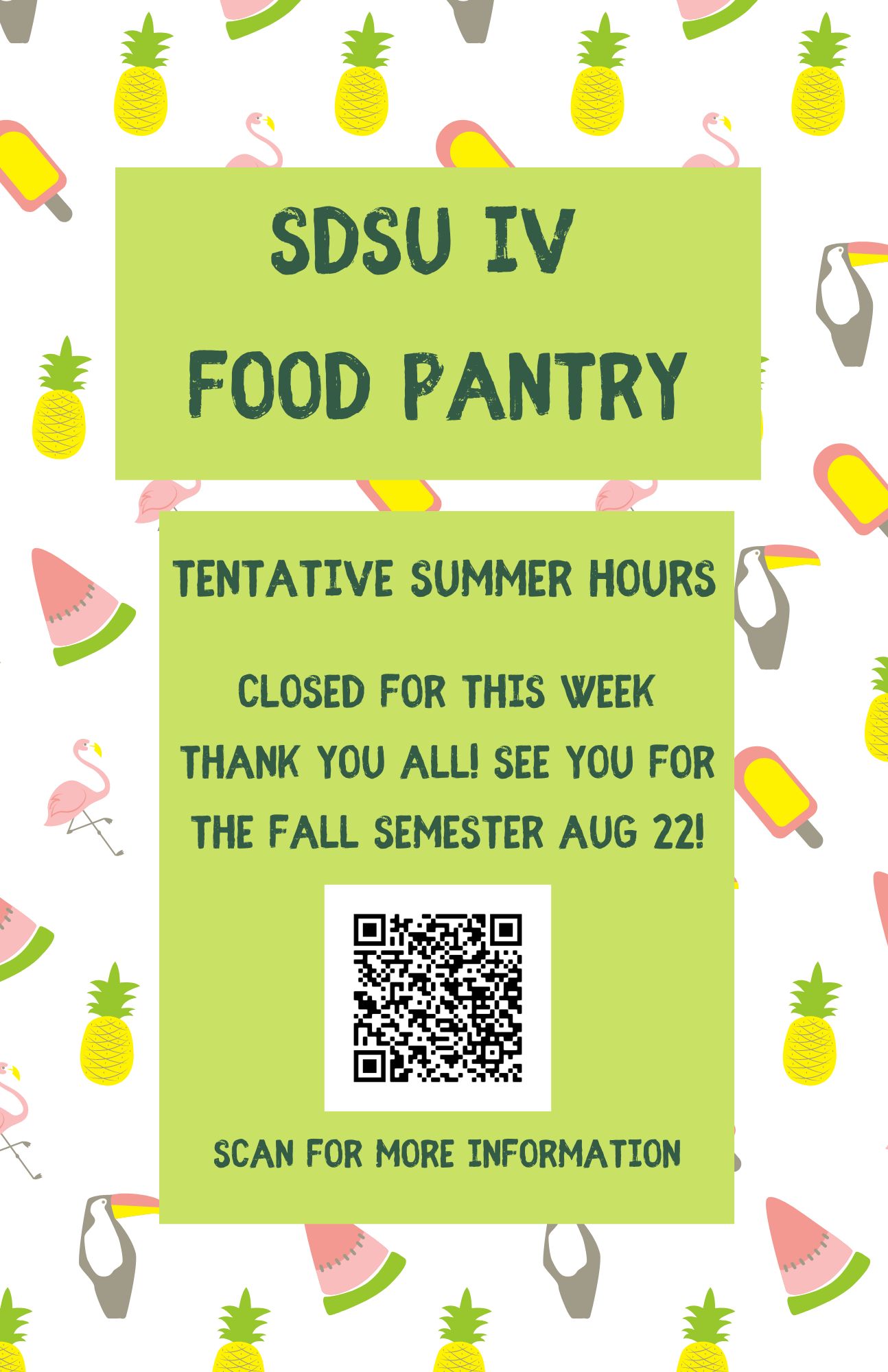 UPDATED TENTATIVE HOURS
CLOSED FOR THIS WEEK.
Located in the library, next to the ID Card Office. PLEASE BRING A REUSABLE BAG.
UPDATES:
CONTEST LOGO WINNER IS VICTOR PANIAGUA!
He is a current student at sdsu imperial valley campus. He will be receiving his prize for the contest logo which are airpods!
Thank you to the students & staff members that participated in our graphic representation of the SDSU IV Food Pantry. As you can see the graphic representation MADe by Victor paniagua at the top of the page and just below his design is our official SDSU IV Food Pantry Logo. The design & logo portray what the food pantry is about and our community.

Resources
Resources available on campus
Supporting Basic Needs & Navigating Economics Crisis
Learn Your Options For: Food Resources Housing Services Financial Assistance Transportation Support Course Material Assistance Technology Access & More!
You can come into the SDSU IV Food Pantry to receive a hygiene kit once a month and snack packs to go everyday from ECRT. Just remember to bring your Student ID Card.
To schedule an appointment regarding ECRT you can do it through EAB navigate under Student Life & Services or call the number listed below. Georgette Astorga Basic Needs Coordinator email: [email protected] Phone: (760)768-5500
A program that provides monthly food benefits to assist low-income households in purchasing the food they need to maintain adequate nutritional levels.
To make an appointment send an email to the Calfresh Outreach Student Assistant to see if you qualify.
Jazmine Torres Calfresh Outreach Student Assistant email: [email protected]