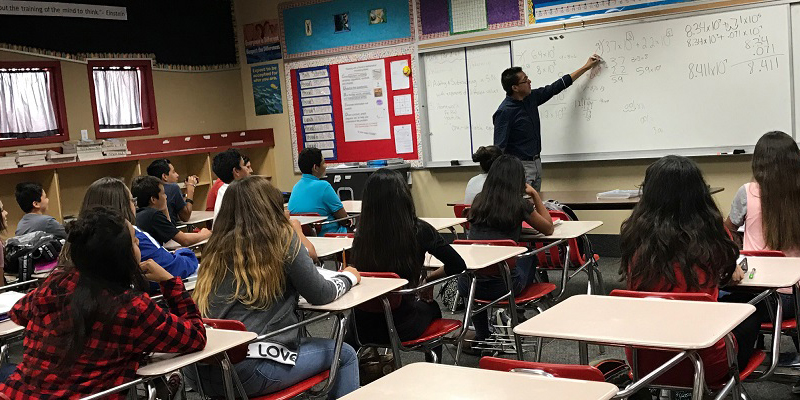 Division of Education
In an era of crescent globalization, transformative educators are looking for effective ways to meet the academic needs of linguistically and culturally diverse students enrolled in compulsory educational settings. At the Division of Education (DOE), courses and assignments are designed following the idea that the quality of teaching and learning are enhanced when educators, students and parents work together to ensure exemplary practices, student achievement, and active involvement. Faculty and staff are certain that linguistically and culturally responsive education will reinforce a free and democratic society as well as to solidify the way teachers develop their methodology; the mastery students must obtain of their knowledge; and the sage parents must have of education.
now accepting applications
Apply by March 1st, 2022
Multiple Subject (MS)
Single Subject (SS)
MS & MS with Bilingual Authorization
STUDENT REQUIREMENTS ARE
CSU Apply
Department Application
Applicaiton Fees
Testing Information
Letters of Recommendation
Professional Goals Essay
Apply Now to Credential Program
Useful Links
Contact Information
Dr. Gregorio Ponce
Division of Education Chair
[email protected]
Walter Lewis
Student Teaching Coordinator for Intern, Student Teaching, and Performance Assessment Programs
[email protected]
Susana Lopez
Administrative Assistant
[email protected]
Office No. WF-179
*Contact to schedule Advising Appointments
Betty Wong
Credential Analyst
[email protected]
Office No. WF-169
Division of Education
Office: West Faculty 179
Hours: Monday - Friday 8:00 am - 4:30pm
Email: [email protected]
We look forward to hearing from you!
With fewer than a thousand students, SDSU-IV provides a uniquely intimate educational experience.
SDSU Imperial Valley
720 Heber Avenue
Calexico, CA 92231