SDSU Imperial Valley Masters of Social Work
San Diego State University-Imperial Valley and the School of Social Work continue to offer a Masters of Social Work (MSW) Program at the Calexico Campus. The program accepts students every three years and is run as a cohort. The focus of the program is in direct practice/clinical in the areas of mental health, children/youth/families and health/aging. Our Calexico Campus Program includes summer classes and two years of internship (total of 60 units).
The current cohort started in the summer of 2020 and will run until May 2023.
Our next cohort is scheduled to start in the Summer, 2023. The application process for this new cohort will open in October 2022 and closes February 1st, 2023 at 8:59pm PST.
MSW Prospective Student Brochure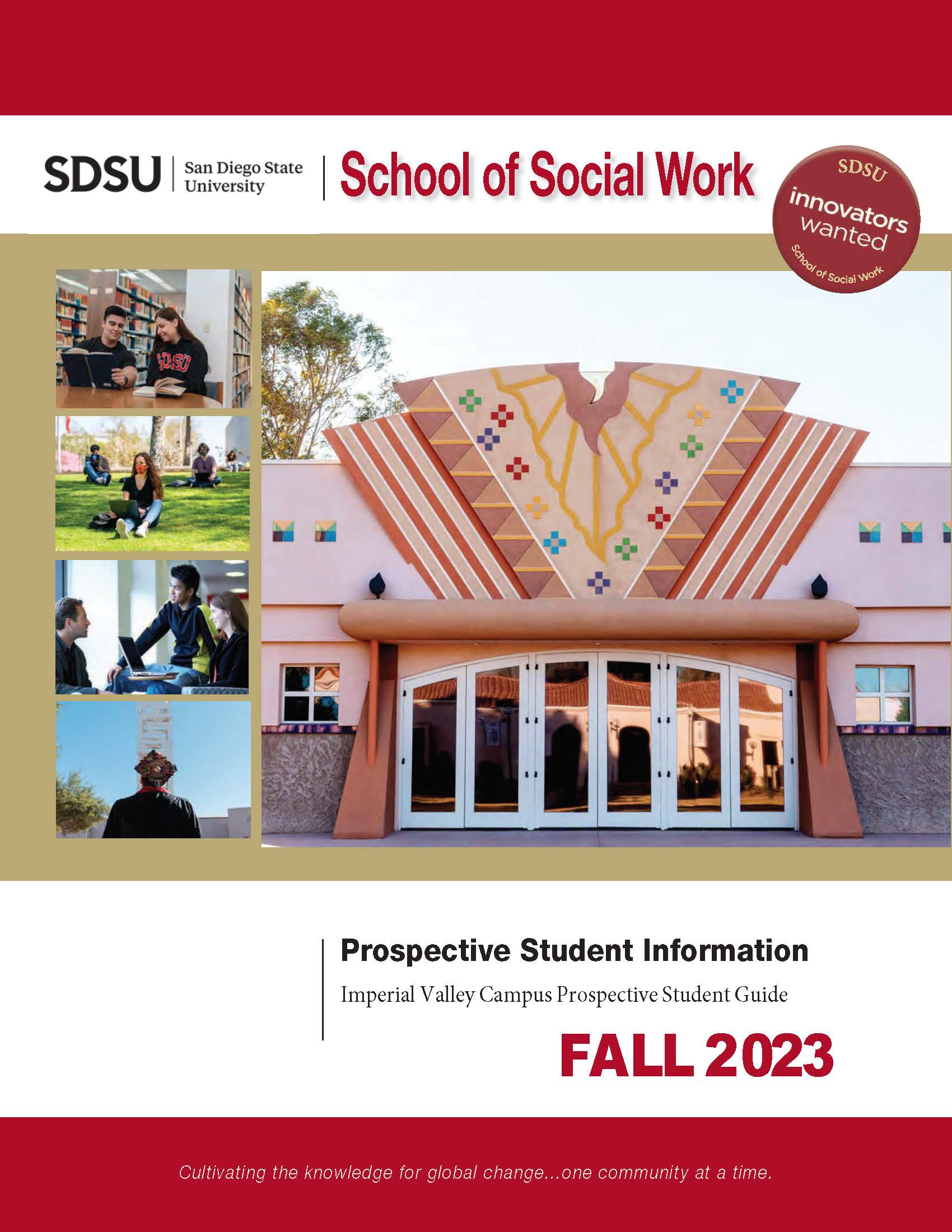 For more information
Please visit our website/links below or contact School of Social Work Admissions Director, Kellie Scott at [email protected] or contact Ernie L. Zúñiga, MSW, SDSU Imperial Valley Site/Field Coordinator and Field Education Faculty for the SDSU School of Social Work at (760) 768-5526 or by email at [email protected]
Past Cohorts
Social Work Students Graduates from the SDSU Imperial Valley
1984
Ann Featherstone
Elaine Jones
Esteban Ramirez
Karen Lee
Maria Garcia
Millie Martin
Paula Huntington
Penny Harris
Suzanne Akers
2000
Alicia Regina Armstrong
Arthur Veloz Gutierrez
Audelia G. Canez
Elma V. Briceno
Jose Jesus Plascencia
Joseph T. Ernest
Kim McDonald
Lazaro Sardin
Leticia Plancarte
Mary Helen Esquear-Madrigal
Melyssa L. Lopez
Rene Rodriguez
2004
Agustina Snyder
Barbara B. Romero
Elizabeth J. Castañeda
Ernie Zuniga
Eva Vanessa Lara
Florentino Olives
Gabriel Lam
Helen Nicole McClain
Janie Echeverria
Jose G. Ramos
Jesus Atondo
Lillian Vera
Lorena Martinez
Maria E. Morris
Martha A. Cervantes
Michelle D. Ruiz
Norma M. Apodaca
Oscar Aguilar
2011
Alejandra C. Lopez
Berenice Coral Zavalza
Brenda Alejandra Melgarejo
Carlos A. Tapia
Cassandra Gregory
Christine Marie Garcia
Cinthya Nohemi Gomez
Esmeralda Luevano
Gerardo Luevano
Hilda Baeza
Lazaro Sardin
Livier Moreno Lopez
Maria Rodriguez-Ruiz
Monica Ann Sterling
Pamela Ann Christina King
Raquel A. Hernandez
Stephanie Sales Wright
Stephen Robert LeMasters
Sylvia Galvan-Wendell
Thomas Chairez Armenta
Veronica Christine Landeros
2014
Bianca Nelson
Brenda Alicia Vera
Carolina Sobampo Jacinto
Cecilia Chanet Garcia
Cindy Rosiles Escobar
Corrina Michelle Cardoza
Denice Elizabeth Cardoza
Francisca Gomez
Grisel Ruiz
Jose Martinez
Karla L. Olivares-Millan
Maria Suzanna Lopez
Mercedes Waston
Mireya Chavez
Natalia Irasema Luna
Norma Lilia Galaviz
Paula Alvarado
Rebecca L. Lopez
Sonia Villafana
Theresa Jean Vogel
Tracy Dawn Davidson
2017
Aday Isbeth Urias
Alexander Ruiz I
Alfonso Alejandro Ruiz
Briana Elisa Barajas
Carlos Enrique Maturino
Diana Sarai Arroyo
Dora Fuentes
Edgar Alonso Rios
Gracie Sarai Arroyo
Gudadalupe Acosta-Hernandez
Jenny Pacheco
Jessica Chairez Martinez-Smith
Jonathan Fonseca
Jose Maria Castro
Kayla Cheyenne Hutchinson
Leticia Iten
Lilliana Delia Garcia
Maria Esther Escobedo
Melissa Lizarraga
Mireya Cuellar
Renee Alejandra Robles
Rodolfo Jesus Mercado
Socorro De La Torre
Vanessa Jean Carrillo
Vianey Urena
2020
Janet Aguilar
Raquel Bermejo
Viviann Cesena
Jorge Cisneros
Ana Garcia
Carolina Gonzalez
Nayeli Gonzalez
Ruby Enriquez
Paola Hernandez
David Lopez
Catherine Lopez
Yesenia Montoya
Paloma Nieblas
Stacie Otero
Martha Perea Remenar
Viviane Rodriguez-Velasquez
Sandy Sierra
James Smith
Mireya Stace
Maria Valdivia
Jose Lopez
Mariana Romero