Border Collection
The IV Campus Library's Border Collection includes books and periodicals covering the wide spectrum of environmental, political, and historical issues affecting the Imperial Valley and Mexicali Border region. Visit the Border Collection.
Library Computers
The Library has a number of computers for searching the Catalog, doing research, word processing, accessing course reserves and other University services. It also offers printing, copier as well as scanning services.
Study Rooms
The Library has 3 study rooms available for group study.
Reservations by groups may be made ahead of time using the button below. Reservations for single users are allowed as walk-in only, meaning the patron may check at the Circulation Desk and if a room is available they may reserve it at that time.
There is a 2 hour per room use limit.
Please check in at the Circulation Desk to access the study rooms.
Each room offers a computer with internet access.
Drinks with lids are allowed. Food is not permitted in the study rooms.
SDSU ID Card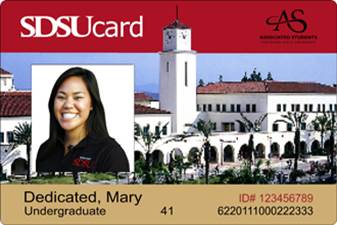 SDSUcard is the official identification for San Diego State University. All students need to get this identification card
The SDSUcard enables students, faculty and staff to have library privileges, verification for University services and events, and provides increased usability.
How to get an SDSUcard:
Register for classes
Come to the library to have your photo taken and your card printed

Please bring a picture id to verify your identity

The University will add a charge for $25 to your student account
If you have questions, please contact IV Library staff and we will work with you to complete the process.
Contact info:
Phone: 760-768-5585
Email: [email protected]
The SDSU-IV Library makes ID cards Monday through Friday from 9am-4pm.
If you cannot come to the library during those days or times, please call the library at the number above to make an appointment.