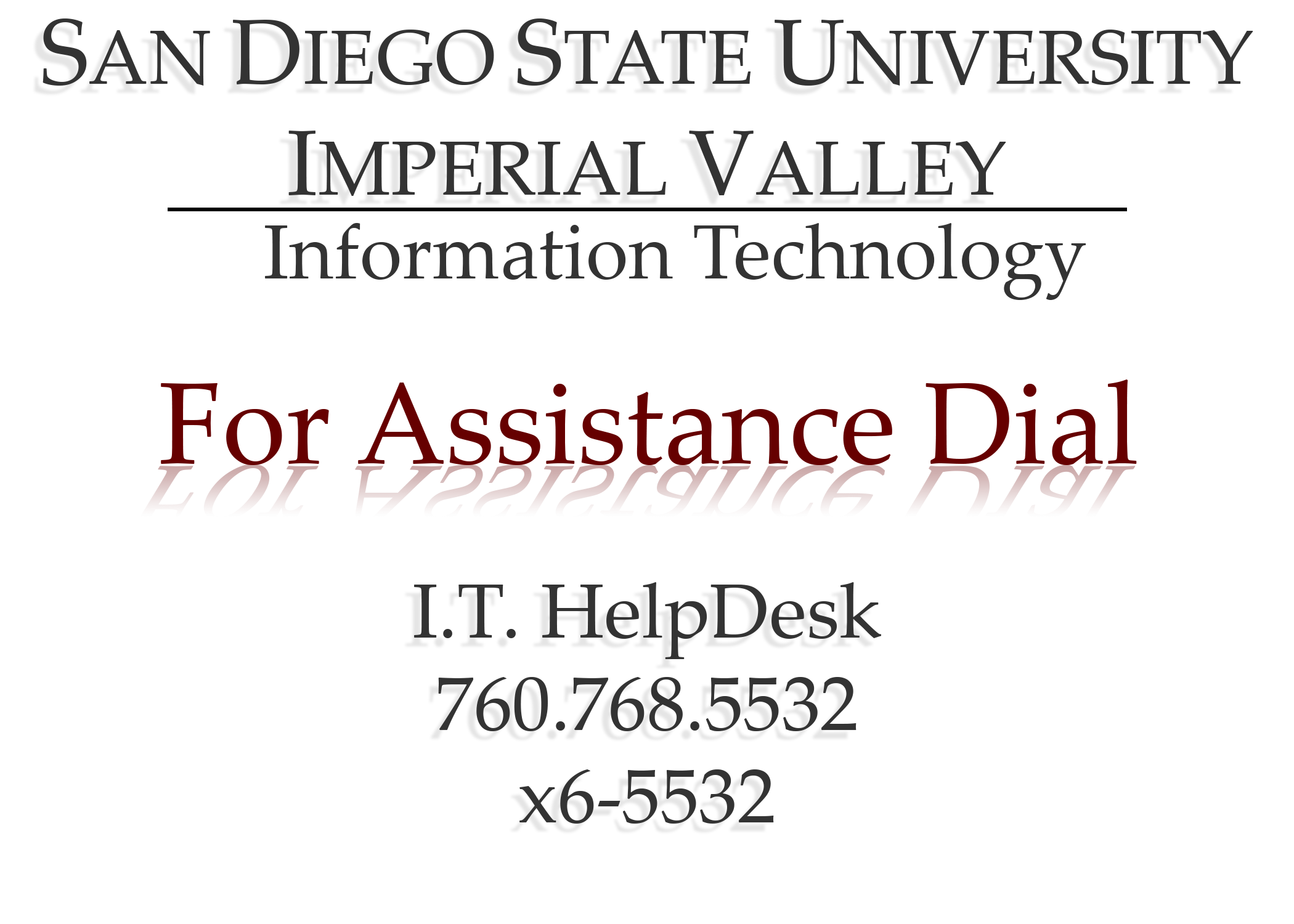 *Please log in with your SDSUid credentials
SDSU-IV Academic Instructional Technology Resources (Faculty & Students)
Faculty Resources & Support
Virtual Instruction Primer Workshops
Virtual Instruction Primer (VIP) Workshops & Recordings
Canvas - SDSU's New Learning Management System
Canvas SDSU Homepage (Information and Resources)
Canvas Support Homeroom (24/7 Canvas Support, Quickstart & How-to Videos)
Blackboard (BB 9.1) Learning Management System
BB Learn How-To Guide for Instructors
BB Learn Create Assignments (Guide & Video)
BB Learn Create Assignments (Step-by-Step Guide)
BB Learn Create a Test (Quick Start Video)
BB Learn Create and Deploy a Test (Comprehensive Tutorial Video)
BB Learn Create Online Test & Assign Test ( Step-by-Step Guide)
Web Conferencing via Zoom
Canvas SDSU Homepage (Information and Resources)
Web Conferencing via Zoom
Web Conferencing Resource Page
How in install Zoom and log in for the first time
Zoom Video Tutorials and Recorded Training Sessions
Additional resources & support for can be found at: http://its.sdsu.edu/support/
SDSU Faculty/Staff: Please submit a Help Desk Ticket via ServiceNow for IT/ITS Support
Student Resources & Support
SDSUid Activation, SDSU Email Account & Google G Suite
Need to activate your SDSUid? Please follow steps (1-2), then follow step 3 to access your SDSU email.
1. SDSUid - How to activate your SDSUid Instructions & FAQs.
2. Your SDSUid is the same as your official SDSU email account, ex. [email protected] & password.
3. Accessing your official SDSU email account ex. [email protected] (aka your SDSU Gmail account).
Simply go to gmail.sdsu.edu & you'll be redirected to the Microsoft portal to login with your SDSUid.
4. Google G Suite - Information on the Google G Suite for students is available at google.sdsu.edu
Also, additional information for returning Students available at https://libinfo.sdsu.edu/computing-hub/faq/302023
Blackboard
Blackboard Learn How-To Guide for Students
Blackboard Learn How-To Submit Assignments (Guide & Video)
Canvas (Learning Management System)
Student Canvas Help & Getting Started Guide
Student Canvas FAQs & Submit a Question
Respondus Lockdown Browser (SDSU Canvas & BB)
Respondus Lockdown Browser (LDB) SDSU Download & Student Guide (Scroll down to Assessment Resources)
Web Conferencing via Zoom
Web Conferencing Resources Page
Learn more about Zoom (Virtual Course Support > Zoom)
Academic Software & Support for Students
Microsoft Office, Adobe Creative Cloud & other Academic Software for Students
Additional resources & support for can be found at: http://its.sdsu.edu/support/
Help for SDSU Students: Phone: 760.768.5532 Email: [email protected]
Additional Student Support & Extended Hours: Computing Hub
Intro to eduroam
eduroam is SDSU's secured and encrypted solution for all faculty, staff and students.
General eduroam Setup Instructions:
Select the "eduroam" network in the WiFi
settings of your device.
If asked, choose the following settings:
WPA2-Enterprise
PEAP / MSCHAPv2
Enter your SDSUid in the format (this is not your RedID):
Username: [email protected]
Password: your-sdsuid-password
Choose the "Connect" option. You should now be connected securely to eduroam.
Password Expiration
Your SDSUid password will expire 12 months after creation or when it is changed. Resetting your password via the SDSUid portal will cause your eduroam authentication to fail as eduroam relies on your username and password combination for each wireless authentication.
It is best to proactively reset all of your wireless credentials after you reset your SDSUid. On most devices, you will be prompted to do this immediately after the password reset.
Wireless Access
Computer Classrooms
The computer classrooms have a computer per student and a teacher station. They are designed for computer based training classes.
Smart Classrooms
SMART classrooms have an instructor station that includes a compatible pc, a macintosh pc, video/data projector, document overhead camera, and a Blu-Ray player.
About Us
The Information Technology Imperial Valley department provides and supports a variety of technology resources available to faculty, staff, and students including computer classrooms, classroom equipment, technical support, SMART classrooms, student computer lab, and videoconferencing facilities.